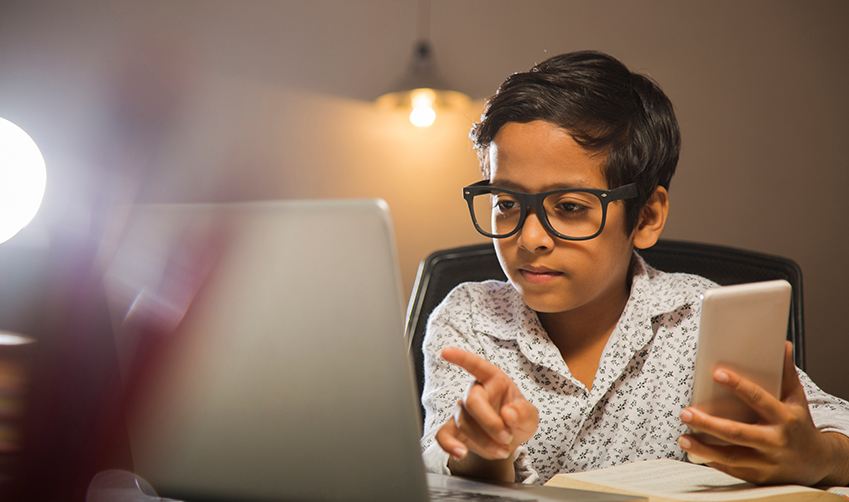 Do you remember the time when a teacher used to explain a math concept using an overhead projector? Or where one period of 'audio-visual' class was what we all used to look forward to? The student engagement through these mediums remained the highest and everyone retained more than what they did through traditional classrooms.
Fortunately, some schools in India today have given an overhaul to their practices making every classroom a 'smart' one. Such schools have deployed blended learning modes where the learning outweighs other learning methods by making instruction delivery effective and result-oriented right from the beginning paving way for smart classes. The biggest advantage of blended learning is that it renders the best of both worlds, that is, the efficacy of online education and the benefits of the traditional classroom.
But what is blended learning?
Blended learning is a combination of offline and online instruction where students engage with the instructor not just within the classroom structure but also through various e-resources via an online platform. This mode optimises learning objectives to match the personal learning style and pace. Such classes are attributed to as smart classes where a student's training is aimed towards a more holistic growth rather than just taking care of the academic aspect.
Let's look at how blended learning in today's world is required more than ever.
In March when the lockdown was announced across the globe and the crisis was declared unprecedented, school functioning came to a halt leaving the students in the lurch. Not only the academic calendar of a school was impacted but its various processes such as new admissions, conducting examination got obstructed too. Asthe deadly virus changed the course for a lot of businesses throwing the education system into a frenzy, a few schools across the nation remain unaffected.
These schools are those institutions that have adopted blended mode of learning and have the facility to run smart classes. These smart classes are run with ERP-enabled software where the schools can switch between various modes- online/offline or both letting the students continue their education from home without any lag. Through this means, the examination pattern didn't get impacted, the admission process remained unaffected and education continued just like before.
Blended learning/hybrid learnings not just to make the education pattern interesting; it is also designed keeping in mind the feasibility of school administration to switch between online and offline mode.
Owing to the current situation, it is going to take a couple of years for parents to become confident to send their children to school again.
Amid this, it becomes important for schools to ensure that there is no learning loss during these multiple interruptions. Besides continuity in education, high-quality learning will also continue to be one of the top parental expectations from schools. These circumstances have led to parents opting for schools that are innovative and can adapt to any challenges. Therefore, schools need to make choices that will ensure that student learning is given high priority. Schools that adopt an 'integrated online-offline' strategy will succeed in the post-lockdown world. This mode of learning helps prevent learning loss due to frequent interruptions and deliver high-quality learning at all times. in all circumstances. Moreover, high-quality digital educational tools let teachers measure each student's learning level and provide activities and instruction that meet their individual needs.
Why LEAD School's hybrid model is the change our country's education system needs?
LEAD School model has proven to be sufficient and in tandem with the evolving requirement of the present day. With Nucleus- the LEAD School Academic System, it becomes easy to monitor student's performance at the school level. Also, in the post-pandemic world, Nucleus, under its school configuration setting gives an option of switching between the various school modes, such as online/offline/both. School administration can also decide on what days they can teach the students, add new subjects, and allocate teachers. The administration can also connect the school YouTube channel to the nucleus to directly upload the learning material.
Be it, switching between online/offline mode, or taking care of aspects which traditionally were only possible within the walls of a school, LEAD School surely is taking a lead in the education space. It further ensures that no crisis can ever halt the education process.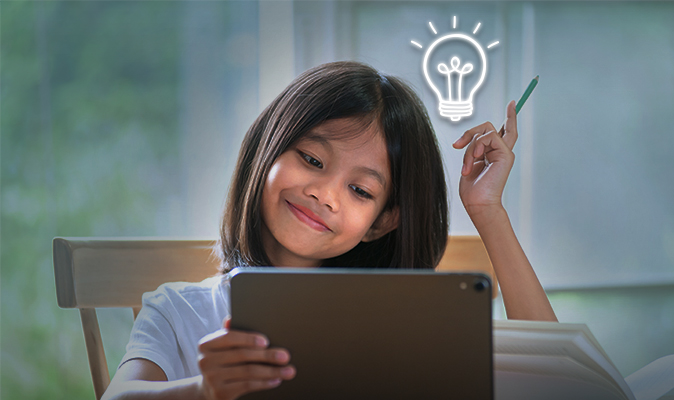 Besides bringing a sign of relief for the school, the teaching module also gets a novel and innovative touch. With LEAD School, the learning process not only gets facilitated but it gets transformed too. In a traditional system, students rely on books for learning. But in the LEAD School system, students get access to smart classes via three modes of teaching.
Through videos and slides that teachers show from her teacher app
Through activities using material from the School Excellence Kit
And through books and workbooks, they get from the LEAD School
In a LEAD School system students and teachers are empowered with smart classrooms, teacher app, school excellence kit, students' books and workbooks, and question papers.
An academic year at LEAD School is divided into units and units are further is divided into day plans. The number of units and number of day plans is designed keeping in mind the need for each sub-school, which is Pre-Primary, Primary, Middle, High, and ELGA.
Pre-primary consists of three classes.
Each class follows an integrated curriculum consisting of cognitive and development domains of literacy; numeracy; EVS; aesthetic and creative expression; moto skills development and social and emotional development. The integrated curriculum for each class is divided into 7 units in a year. Each unit has around 25-30-day plans. In all, there are 170-day plans.
Primary classes consist of classes from 1-5 and offer Maths and EVS. There are 7 units in a year. Each unit has 20-day plans. In all, there are 140-day plans.
It consists of classes 6-8 and offers maths and science including Physics, Chemistry, and Biology. It also comprises Social Science that includes history, geography, and social and political life. For schools that choose NCERT English, instead of ELGA, LEAD School offers English too. There are 7 units in a year. Each unit is divided into 23 days (20+3 optional) plans for subject enrichment. In all, there are 161-day plans.
For students from class 1-8, LEAD School offers a level-based programme called ELGA. It has 5 components:
Phonics
Whole words
Reading and listening comprehension
Grammar
Writing and speaking expression
Furthermore, assessment at LEAD School helps student cover their learning gaps before progressing to the next unit. Every unit has a unit-end assessment. These might be written, oral, or both.
To book a demo today, click here!