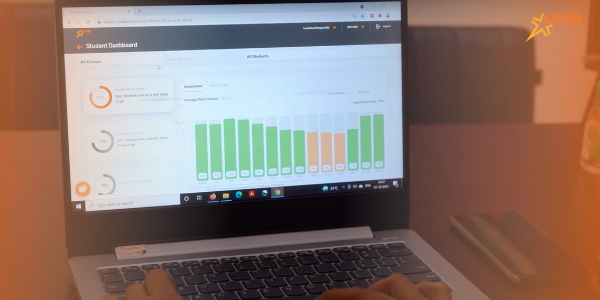 A smart school ERP (Enterprise Resource Planning System) is used by schools to manage daily activities such as administrative tasks, managing student databases, fee management, homework management, managing student attendance, e-learning management, and others.

Smart school ERPs became more popular in India since the lockdown. However, as schools realized the benefits of smart school ERPs, they have started becoming the backbone of school management even now when schools have started reopening.

Apart from automating the daily tasks of a school, school ERPs have also been found to impact the way teachers spend their time. Now that the burden of routine tasks is removed, teachers can better focus on improving the learning outcomes of their students.

Here are five ways in which school ERPs are helping teachers focus their attention on teaching better and thus improving their students' grades:

1. Automated testing
A smart school ERP makes doling out quizzes, reading assignments, and homework assignments a piece of cake. Based on students' history, teachers can give customized assessments for each student. In fact, the whole process of grading multiple-choice questions (MCQs) becomes easy and teachers can focus more on test analysis rather than grading papers. In addition, students can attempt scheduled tests from any location, on any device and the results can be tabulated and sent to the students almost instantaneously.

LEAD's Teacher App makes doling out customized tests for their students an extremely easy process. The massive repository of pre-made tests gives teachers the flexibility to choose the best level of tests for their classes.

2. Easy doubt-clarification
Most students are shy to ask doubts in the classroom. They fear being judged by their peers and sometimes teachers as well. With online classes, it became tougher for kids to ask doubts due to a lack of face-to-face communication. Smart school ERPs like LEAD, provide dedicated features like 'Ask Doubts' that help overcome this challenge.

As the student's performance is continuously tracked in a school ERP system, teachers can also easily know the topics in which a student is struggling. A smart school ERP can also nudge students to ask doubts to personally settle their queries from teachers. This ensures that teachers are in constant communication with their students and gently guiding them to become better performers.

3. Recorded sessions
A smart school ERP can easily track the lectures a student has missed. This way, both parents and teachers can be aware of what exactly a student has missed. This minimizes the loss of education that an unavoidable absence can entail. Teachers can also arrange for remedial classes if required.

The LEAD Student App enables children to watch not only live classes daily but also ones that they have missed, via recorded lectures. Children can also explore the 'Change Date' option to rewatch classes in order to revise.

4. Communication with parents
A smart school ERP is the best tool to keep parents in the loop and in sync with their child's learning journey. ERP systems allow teachers to directly interact with parents and give critical and timely feedback. This allows parents to remain meaningfully invested in their child's academic journey and take remedial actions before it is too late. Teachers can also communicate every child's strengths and weaknesses to their parents and chalk out each child's customized journey.

LEAD's ERP system has the 'Parents Section' that allows parents to check their child's attendance and progress reports. We encourage them to understand where a child stands and how their child can grow.

5. Automated attendance
Manual attendance is one activity that every teacher wishes took less time. A smart school ERP automates this process quite seamlessly. This ensures that the class attendance is over in a jiffy and teachers can analyze this attendance and parents are aware of their child's record. This automated system ensures that most of the classroom time of teachers goes towards teaching students.

LEAD's Teacher App makes attendance-taking easy for teachers, allowing them to use their time for teaching better.

In conclusion, as schools open up after the pandemic, the education sector is now headed towards blended solutions of offline and online teaching. Technology is going to be a great enabler in delivering quality education to students. LEAD has been a pioneer in welcoming this change with its own integrated system. LEAD Powered Schools have integrated school ERP systems that enable teachers to get the best out of students.
LEAD is transforming schools by making children future-ready. To make yours a LEAD Powered School: Partner with us today